Presenting, the Luna.
Sweet chili coleslaw, with turkey, swiss cheese and avocado. Yum!
Only $6.19.
Try it fast, it's only available for a limited time.
The Flavornators of Erbert and Gerbert's proudly present the Luna. A cosmically crave-tastic combination of tangy-sweet chili coleslaw, oven-roasted turkey breast, swiss cheese, avocado and tomato. Available now!
The Luna is rising in Flavornation...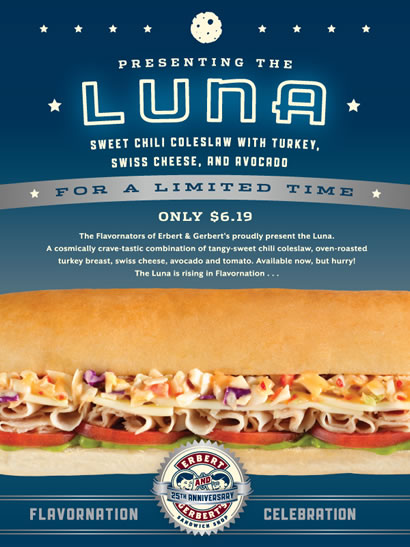 Links to News about this on other Websites
QSRweb.com: "The unusual flavor profile of the sweet chili coleslaw adds a new dimension of flavor to the sandwich..."